Backing tracks
Music without piano parts made for improvise and exercise with on keyboard or piano.
Backing tracks are music arrangements that can be used for play along with. The tonal flavors in all sorts of scales makes them magic tools for playing over chords and music arrangements.

The piano parts are missing and so is the melody. Since you are playing the melody part, you should in general play on the middle and high register of the piano, to make it sound as best as possible.

Here you find backing tracks for piano categorized by scales and keys. The Major Scales Backing Tracks album, for example, include instrumental tracks made specially to be used with the Major scales.

You don't have to change scale with chord changes. Instead, you can use a single scale for the whole song. Click on "Show scale" below the audio element for a diagram of the scale to use.

It can be difficult to get the scale you use to line up with the track when where is no sheet music to lead you. But the central thing with these jam tracks is to train your ability to improvise. If you still need concrete playing advice, a tip is to look up licks. If you for example like blues, search online for blues licks and by incorporating them you have something to support your improvisation. In the next phase you should try to expand and modify some of the licks as well as increase your lick repertoire. See also How to improvise on piano.
Newest addition
Major Pentatonic is one of the most useable scale for improvising in the country style. Below is a lick example that can be used with the track below; the A# is outside the actual scale but is used to slide down to the B.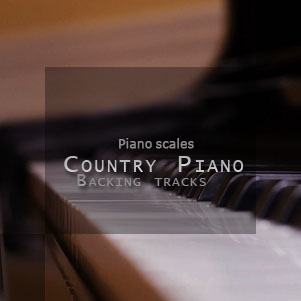 Track list
G Old Country
Show scale
All tracks included in Country Piano Backing Tracks are available for members.
Various backing tracks presented by Pianoscales.org.


C Fast Blues
Show scale
C Major Soft Ballad
Show scale
D Major White Shade Pop
Show scale
F Major Jazz
Show scale
A Minor Americana
Show scale
G Minor Ballad
Show scale
F Minor Cosmos Dub
Show scale
A Minor Techno Stabs
Show scale
C Major Great Harmony
Show scale
C Explosive Pop
Show scale
All backing tracks are available in the member area.