About
Since 2012, this website has presented information about piano scales, primarily. The goal is to give information of scales that can be comprehended easily trough brief instructions, which are combined with visual representations. For content overview, see the sitemap.
Copyright
No part of the content on Pianoscales.org may be reproduced, distributed, or transmitted in any form without the prior written permission of the publisher, except in the case of brief quotations embodied in critical reviews and other non-commercial uses permitted by copyright law. For permission requests, send an e-mail to info@pianoscales.org.

As a standard permission, the content of this site can be used in non-commercial, educational purposes as long as you are referring to the source clearly.
Contact
See contact information.
Advertise
See contact information.
Donate
If you like the site and want to support it, a donation would be most appreciated. See donate page.
Cookies
See the Privacy Policy for information about cookies on Pianoscales.org.
Recommended site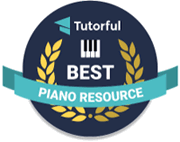 Pianoscales.org was listed on "The Very Best Piano Resources: Tried, Tested and Recommended" made by Tutorful in 2018.

UK's leading online tuition marketplace Tutorful.co.uk surveyed 60,000 students, parents and tutors on their databases and asked for them to send their recommendations for the resources they feel are the most beneficial to help learn the piano. 
More
The page with links that previously could be found in the footer can be reached via this link.