Membership – support the site
Pianoscales.org is a free resource and will continue to be so. However, if you feel that what you get from the site in some degree can be compared to what you would get from a book or a teacher, you can choose to support the site.

If some of the visitors would decide to contribute with $3 per month, it would be beneficial for investing more time and in better equipment – musical and creation-based. And ultimately reaching higher quality on all educational material.

Becoming a member will in return give you access to exclusive material such as sheet music and backing tracks. All in all:
Lessons, exercises, quizzes and interactive ear training.
Scales in musical notes.
Sheet music (including normal, easy and note letter versions plus sound).
Classical Music e-books with piano sheet music.
All backing tracks albums (digital files, not physical CD).
Backing tracks with real-time directions.
Access to all new exclusive material that is created.
Sign Up $3 per month Sign Up $30 per year
After the sign up you will be redirected to your member page. No newsletters or offers will be sent to you from Pianoscales.org.

Testimonial: "Excellent reference source for all musicians!! Best music reference site on the WWW. Great idea and very well implemented. Thank you!!"

$3 monthly membership - part 1
You get access to the piano sheet music collection plus the Classical Music. Sheet Music for Piano e-books.
Sheet Music Collection
In addition, you get access to the growing sheet music collection (classical music, traditional songs and children songs are genres covered) with many versions of each piano piece:
Normal version
Easy version
Note letters version (note names are visible)
Sound.
Classical Music e-books
The collections of sheet music includes piano pieces from famous composers such as Johann Sebastian Bach, Ludwig van Beethoven, Robert Schumann, Edvard Grieg, Georg Friedrich Händel and Antonio Vivaldi.

The piano pieces are well-recognizable with arrangements for beginners to low intermediate players. The books contains advice and explanations about how to play all piano pieces. They also has biographies of the composers.
$3 monthly membership - part 2
In addition to the above, as a member you get the full backing tracks collection plus scales in musical notes.
Backing tracks album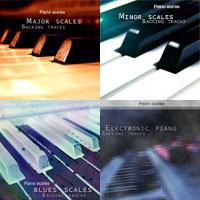 This is music arrangements that can be used for exercise scales and/or improvising. The piano parts is removed, which is for you to play. Instructions are given for which scales to use for matching the music. A selection of available albums:
Major Scales Backing Tracks (for all 17 major keys)
Minor Scales Backing Tracks (for all 17 minor keys)
Orchestra Backing Tracks (for the classical music genre)
Blues Scales Backing Tracks (for the blues genre)
Jazz Piano Scales Backing Tracks (for the jazz genre)
Synthesizer Backing Tracks (especially great for synths).
Electric Piano Backing Tracks (especially great for electric piano.
Listen to a preview from one of the included tracks on Major Scales Backing Tracks:
In addition, you get access to new created exclusive material on your member page.
After you have become a member, you will receive a link to your member page with all the exclusive material collected.

You can choose to pay with credit card (Visa, Master Card etc.). Also Apple Pay or Google Pay.

Thanks for supporting this site!
About fees
Tax (which sometimes is an issue depending on the country) on top of your prices are paid by Pianoscales.org and not added on top of the price. In other words, as a member you don't pay any extra fees.
About PayPal
The payment service is working via Stripe and unfortunately PayPal is not a payment option (Apple Pay or Google Pay are if that is to any help).
Newsletters?
You probably receive enough e-mails so you will not get newsletters or offers of any kind from Pianoscales.org after you have been a member.
How to cancel your membership
Since you are helping Pianoscales.org it is important that you don't suffer from your engagement and that you, if you wish, can cancel your membership just as easy as it was for you to start it.
If you want to toggle off auto-renew, you can do so under the Subscriptions menu item in your account. Pianoscales.org will not try to make it hard for you to get out of your membership. If you have any problem to solve this by yourself, you can send an e-mail directly to info@pianoscales.org (the mailbox is at least checked once a week, but be prepared for some days delay).

When you cancel your membership you will stop the monthly/yearly payment starting from the next payment to follow.
Questions?
If you still have any questions about this, be welcome to contact the site owner on info@pianoscales.org.
Thank you, supporters!
Names will no longer be published without agreement. If you want your name here, just send an e-mail.
Leonard Maciuca
Steven J
Mike M
Kiran Y
Gerald H
Arsalan R
Tom R
Jeffrey S
Peter
Anthony L. Zak
Andrew
Jipé Moro
David Feldman
David Thorrold
Erick
Richard John Clayton
Kevin Chiu
LR Purchase
Alexandra Di Gregorio
Linda Merriman
Brian Seeley
George Spanos
Bonnie
Gerrie Durrheim
Timothy J Witcher
Paul San Nicolas
Alex
Philip Jolly
Andrea Blough
Henry Fluker III
Al Stanelun
Michael Philbin
Janet Hammond
Nancy Burke
Cathie Royer
Dr Sangita Judge
Mary L Severance
Nathaniel
Lusik