Membership – support the site
Pianoscales.org is a free resource and will continue to be so. However, if you feel that what you get from the site in some degree can be compared to what you would get from a book or a teacher, you could choose to support the site.

If some of the visitors would decide to contribute with $1 or more per month, it would make a great difference. More time could be invested on the site and more creation projects could be fulfilled.

Becoming a member will in return give you access to exclusive material such as backing tracks and sheet music.
$1 monthly membership
Members get the full backing tracks collection plus scales in musical notes.

Become a Pianoscales.org member
Backing tracks album
This is music arrangements that can be used for exercise scales or improvising. On the Major Scales Backing Tracks and the Minor Scales Backing Tracks albums, the instrumental tracks are made specially for the major and minor scales. Electronic Piano Backing Tracks fits especially well for keyboards or synths. All tracks have the piano parts removed, which is for you to play. Instructions are given for which scales to use for matching the music (no key changes occur in the songs).

Listen to a preview from one of the included backing tracks (C Major Soft Ballad):
Listen to a preview from one of the included backing tracks (A Minor Americana):
Listen to a preview from one of the included backing tracks (F# Minor Electronic):
In addition, you get access to new created exclusive material on your member page.
$3 monthly membership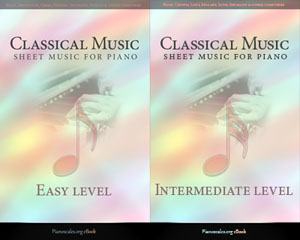 Support the site with $3 per month and, in addition to the above, get the Classical Music Easy Level ebook with sheet music plus access to additional piano sheet music.

Become a Pianoscales.org member
Classical Music Easy Level ebook
The collection of sheet music includes piano pieces from famous composers such as Johann Sebastian Bach, Ludwig van Beethoven, Robert Schumann, Edvard Grieg, Georg Friedrich Händel and Antonio Vivaldi.

The piano pieces are well-recognizable with arrangements for beginners to low intermediate players. The book contains advice and explanations about how to play all piano pieces. It also has biographies of the composers.
Sheet Music Collection
In addition, you get access to the growing sheet music collection with many versions of every piano piece.
Normal version
Easy version
Note letters version (note names are visible)
Sound.
After you have become a member, a link to your member page on Pianoscales.org is sent to your e-mail. On your member page is all the exclusive material collected and can be downloaded as well.

You can choose to pay with credit card (Visa, Master Card etc.) or PayPal.

Since Mars 25, 2019, Pianoscales.org has a Patreon.com profile page. This is a way for website creators to get support to develop their projects and for visitors to engage in them more directly.  

Thanks for supporting this site!
I want to support your site but not via each month membership
This is fully understandable. As membership concerning, however, the idea is well summed up on Patreon:
While one-time payments are a great feature idea, it's important we stay true to what Patreon is all about: Building a membership platform for creators.

For now, the best way for a patron subscribe to a creator with a one-time payment is to become a patron then simply cancel their membership after they have been successfully billed.
This is the best method for a one-time support, although it's not perfectly smooth, as you can read.
Cancel your support and membership
Since you are helping Pianoscales.org it is very important that you don't suffer from your engagement and that you should be able to stop your economic support as smooth as it was for you to start it.

To end your payment step by step:
Go to the menu on your Patreon page and click on "My memberships".
On the page that open click on "Edit".
Finally, "Click on Edit or Cancel Payment".
If you still have questions about this or problems by finding the cancelling steps, be welcome to contact the site owner on info@pianoscales.org.  

You could also contact Patreon.com (which is the third-party service Pianoscales.org use for this membership/support approach), on the contact form found via this link: Patreon contact page.
Thank you, supporters!
These have chosen to be patrons:

Jipé Moro
David Feldman
David Thorrold
Erick
Richard John Clayton
Kevin Chiu
LR Purchase
Alexandra Di Gregorio
Linda Merriman
Brian Seeley
George Spanos
Bonnie
Gerrie Durrheim
Timothy J Witcher
Paul San Nicolas
Alex
Philip Jolly
Andrea Blough
Henry Fluker III
Al Stanelun
Michael Philbin
Janet Hammond
Nancy Burke
Cathie Royer
Xavier Jutras
Dr Sangita Judge
Mary L Severance
Nathaniel
Lusik